5 Ingredients to Tick off Your Checklist Before you Buy Makeup Online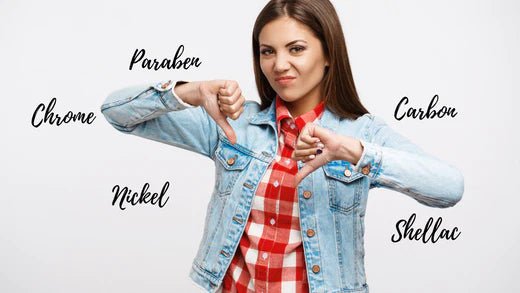 What do you look for when you buy makeup online, or any other mode? Depending upon the product that you are eying, you look for the pigmentation, lasting power, and how much it would cost you. But, the question remains; is that enough? Are these parameters enough for you to decide what to put on your skin?
Do you know?
Almost 60% of what you put on your skin gets absorbed
Out of some 1000 ingredients that are banned worldwide, only about 5 are prohibited in India
Do you understand why a few more factors need to be considered? Such as; whether the product is vegan or not, whether your makeup is cruelty-free or not, and most importantly, whether or not you buy cosmetics online, if those are free of harmful chemicals or not.
Confused? You need not be. We have created a handy list to refer. When you buy makeup online, make sure you refer to this checklist and ask the right questions so that your skin does not suffer.
Shellac
When you buy makeup online, specifically nail paints, you usually look for ones that can make your pinkies shine brighter and stay on for a long time. You also want this to come at a low cost. Often, to strike a balance between price and quality, the ingredients and quality suffer. Shellac is an example. This is an ingredient that is created after thousands of lac bugs. If you are someone who stands against animal-cruelty and wants your nail paint to be guilt-free, look out for brands who do not advocate such ingredients, even if at a few extra bucks.
Squalene
This one is a powerful ingredient which can often be found in lip products. It is known for its anti-ageing properties. What you may not, however, know that it is made by using shark liver oil. While the predators may not exactly be human-friendly, they don't dwell on the land to bite us off. We should probably tread away from their territory too. Make sure to not buy cosmetics online if you spot this ingredient. 
Carbon black
Everyone wants a Cleopatra eye. But at what cost? Would you use a sketch pen to create those smoky eyes? No, right? What if we told you the best of brands use similar chemicals, package them with gorgeous fonts, and give to you under the garb of eye makeup? Shocking, but not really. Carbon black is one of the most common harmful ingredients used in kajals and eyeliners. It surely gives a terrific intensity and pigmentation, but at a terrible cost. This is your eyes that we are talking about. Science has proved that this ingredient is so toxic that it can damage your organs and eventually lead to cancer. Some forms of carbon black on the labels are D&C black no. 2, acetylene black, channel black, and thermal black.
Parabens
The most common and the most used ingredient is a paraben. Yet, it is the most overlooked one too. Most of the consumers are so used to having parabens in their products that they do not pay heed while they buy beauty products online. While parabens serve as bacteria repellents that ensure your makeup products last longer, they have effects on the skin that are hazardous, to say the least. These get absorbed in the skin and can cause early puberty and even breast cancer. If you suffer from dry eyes, buying makeup online without researching on parabens can be the worst thing ever as they dry eyes further. Ditch the paraben when you buy makeup online.
Nickel and Chrome
These are two heavy metals which are found in most of the festive eye makeup, to create that glittery and shiny look. These ingredients can be specially found in green eye makeup. These are harmful to the extent that they can cause heavy brain damage, and that's why you should be careful of these while buying makeup online. A big issue is that sometimes these are not listed on the label. Thus, the best way to avoid these heavy metals is to go for a brand that does not promote toxicity.
We at House of Makeup believe in creating clean beauty that is free from toxicity. We know that you want to look beautiful but not at the cost of your essence. And that's why, we create products that are not just free of token chemicals but all harmful and toxic ingredients. Additionally, we are cruelty-free, so you can wear your favorite make without any guilt.
Buy makeup online that's devoid of toxicity and guilt. Shop online at houseofmakeup.com.
---